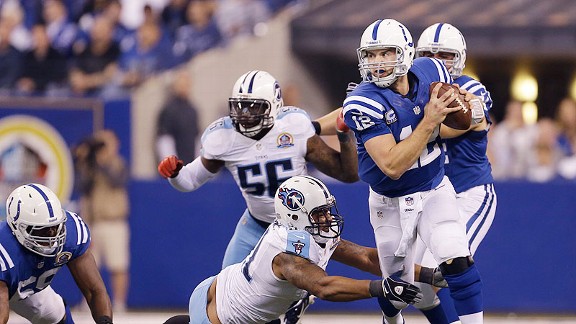 Luck Nears Perfection In Indy

(1-1) Tennessee Titans @ Indianapolis Colts (1-1)
Taking over for a future hall of fame quarterback such as Peyton Manning can be a tough thing to do but Stanford standout, Andrew Luck seems to be doing just that. Luck has lead his team to a AFC South title in his first two years in the league and looks to continue on the road to a third as he took on the Tennessee Titans.
Head coach WTK and his Tennessee Titans were looking to separate themselves from the pack this week as they were tied for second in the South, sporting a 1-2 record. Unfortunately for rookie quarterback, Miles Quagileri he got off to yet another rocky start, throwing 4 interceptions before he was replaced by second-string, Jake Locker. This distraught performance by Quagileri could cost him the starting job going into week 4.
On the other hand, Andrew Luck and the Colts' offense was not slowing down this week as they dismantled the Titans. Rookie Wide Receiver, Jonathan Jean-Louis looked to up his snap count in practice next week after a solid performance. The 1st-round selection was able to tally 124 yards receiving along with a single touchdown on five receptions, others who received touchdown passes from Luck were Tight-End, Coby Fleener and Fullback, James Casey.
The Colts' defense was aided by the Titans slow starting offense, along with 5th year defensive back, Cassis Vaugh, who was able to get his hands on the bal a total of 3 times on the night. At the end of the day it was the Indianapolis Colts who came out on top by a score of 37-7 as they improve their record to 2-1.
Top PerformersQB - A.Luck - 14/16, 304 Yard, 3 TDs
WR - J.Jean-Louis - 5 Rec., 124 Yards, 1 TD
TE - Coby Fleener - 3 Rec., 63 Yards, 1 TD
CB - C.Vaugh - 3 Tackles, 3 INT

[color=cyan]HB - C.Johnson - 13 Att., 68 Yards (5.2 AVG)
WR - K.Wright - 4 Rec., 61 Yards/color]
WR - K.Britt - 3 Rec., 43 Yards, 1 TD
MLB - C.McCarthy - 8 Tackles
(1-2) / Next Week: @ Cleveland Browns (1-2)
(2-1) / Next Week: vs Cincinnati Bengals (3-0)
AD Takes A Day Off

(1-1) New York Jets @ Houston Texans (0-2)
Still on the hunt for their first win of the season the Houston Texans were more than happy to be in-front of their home crowd as they hosted Big Ben and his New York Jets. New York struggled last season but with the addition of Roethlisberger they hoped to turn their season around and become a contender in the AFC East.
Things didn't start off for the Texans just like they had hoped, finding themselves down 17 at halftime. In an effort to bring themselves back into the game rookie Quarterback, Don Leoni would have to take control of the offense. Leoni, for the first time this season, was able to hook up with superstar Wide Receiver, Andre Johnson for a touchdown.
Houston's comeback didn't stall there, a battle between two big name backs failed to live up to the hype as Texans' back, Adrian Foster was able to out-run Adrian "all-day" Peterson, recording 80 yards on the ground with Peterson only chewing up 19 on the game.
In the end it was going to take a huge defensive stand by ether one of these teams in order to walk away with a victory. Jets' Linebacker, Paul Kruger may have though it was thanksgiving this week as he got his hand into a little bit of everything, recording 3 tackles along with a single sack and interception. The play of Kruger did not seem to spark the Jets' defense as they fell apart late and allowed the Texans to secure their first win of the season by a score of 23-20.
Top PerformersHB - A.Foster - 21 Att., 80 Yards (3.8 AVG), 1 TD / 3 Rec., 20 Yards
WR - A.Johnson - 5 Rec., 72 Yards, 1 TD
WR - K.Walter - 2 Rec., 88 Yards
RE - S.Speaks - 2 Tackles, 1 Sack

WR - S.Holmes - 3 Rec., 43 Yards, 1 TD
HB - A.Peterson - 14 Att., 19 Yards (1.4 AVG) / 2 Rec., 48 Yards, 1 TD
SS - T.Zbikowski - 6 Tackles, 1 Sack
OLB - P.Kruger - 3 Tackles, 1 Sack, 1 INT
MLB - D.Harris - 3 Tackles, 1 INT

(1-2) / Next Week: @ Green Bay Packers (3-0)
Spiller Spills Out In Win

(2-0) Buffalo Bills @ Jacksonville Jaguars (1-1)
In a day and age where it's essential to be able to pass the ball in this league the Jacksonville Jaguars may be trying to keep things old school next week after the play of recently acquired Quarterback, Jay Cutler. With only a single passing touchdown thrown by the Jags so far this season, Cutler and company were looking to expand their range this week.
Cutler finished the game completing 66 percent of his passes this week, but continued to struggled in the red-zone, throwing yet another interception within the 10 yard line. The collapse of the Jaguars could not be pin-pointed to Cutlers' play however.
Coming into this week undefeated, the Buffalo Bills were looking to continue on that hot streak by doing whatever they could to protect their lead. In order to do so the Bills made it a priority to cause turnovers and that they did. By putting pressure on Cutler the Bills solid defense was able to bait him into throwing a pair of interceptions, but when the ball was moving up-field the Bills still had their eyes on the prize, causing 3 fumbles on the night.
Along with their stellar play on defense the Buffalo Bills' offense was able to hold their own. Running-back, C.J. Spiller was given the green light this week as he ran for a total of 81 yards and scored a single touchdown on 12 carries. On both sides of the ball the Bills were simply more efficient which lead to a 20-3 victory over the Jaguars.
Top Performers[color=green]TE - M.Lewis - 6 Rec., 63 Yards
WR - M.Thomas - 3 Rec., 46 Yards
LE - J.Mincey - 6 Tackles, 5 Sacks

HB - C.J. Spiller - 12 Att., 81 Yards (6.8 AVG), 1 TD
WR - B.Slowey - 2 Rec., 57 Yards
LE - M.Williams - 6 Tackles, 4 Sacks
FS - J.Byrd - 7 Tackles, 1 INT
(1-2) / Next Week: vs Miami Dolpins (3-0)