I wanted to try to explain to our fans, coaches and players the thought process behind some of our more recent moves by the new GM. I really wish I could explain the moves of our GM before him but that's impossible.
He built a 4-3 defense with good solid starting 4-3 Ends in Tuck and Woodley. But our backups belong in a 3-4. He decided to stiffen the growth of young players by bringing in aging talent. None of this is a logical approach to building a team. Maybe if your team is close to a SB contender, maybe. So in response some players had to be moved. It really was in their best interest as well as the Raiders. In return the team loaded up on draft picks to build a proper foundation. 13 total picks with 6 in the top 3 rounds and 10 in the top 4 rounds. No reason for this team not to draft 7-8 contributing players with this GMs first draft.
The most recent mock draft has them taking DE from Ohio State Jared Daniels and LT from Georgia Thrick Hatcher in the first round. Not sure I agree with the Daniels pick but Hatcher will be an immediate starter opposite of Penn.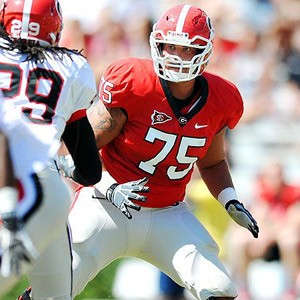 Expect to see growing pains, with this years M.A.S.H. unit. But the future is bright.